We may earn commission from links on this page, but we only recommend products we back. Why trust us?
20 Best Moisturizers With SPF for Every Skin Type, According to Dermatologists
Reach for these moisturizers with sunscreen to protect and hydrate your skin.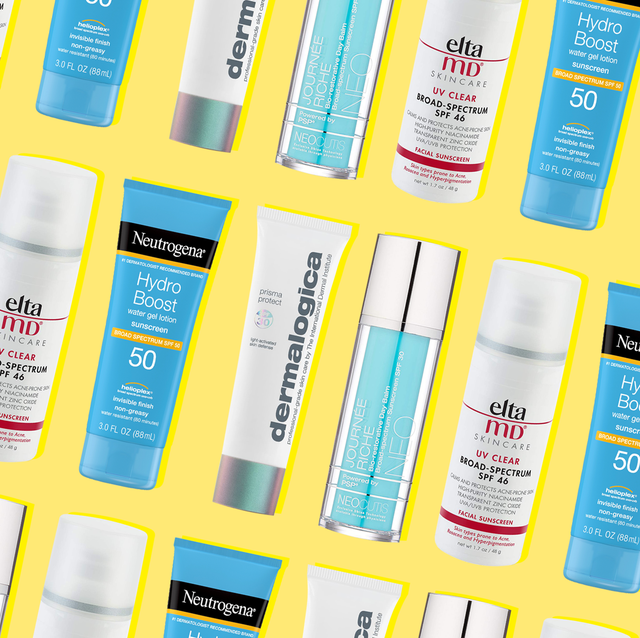 If there's one piece of skincare advice you've heard over and over again, it's to wear sunscreen every day—yes, even during the cold, gray months—but especially during spring and summer. And while you likely have no problem slathering up to spend time in the sun over the weekend, the last thing you want on your face Monday through Friday is a formula that's super thick and makes you smell like an overly-processed coconut.
But there's a new class of sunscreens made for your face that hydrate skin without clogging your pores. These formulas not only shield against the sun's harmful rays by offering broad-spectrum UVA and UVB protection, they also contain antioxidants (to keep skin looking youthful) and tint (to even skin tone and work double-duty in place of your foundation).
The right moisturizer with SPF (most often, a face sunscreen with hydrating ingredients) can easily give skin a smooth canvas to be worn under makeup—or provide enough of a tint to skip it altogether. It's far superior to using makeup with added SPF, which won't do the job, says Nazanin Saedi, M.D., a board-certified dermatologist with Jefferson University Hospitals in Philadelphia.
How to choose (and use) the best moisturizer with SPF for your skin
Read your labels: To find a moisturizer with SPF, make sure its designated on the label as face sunscreen, otherwise it will not be potent enough to fully protect your skin. Shoot for a minimum of SPF 30. "Apply it to your entire face and look for one that delivers broad spectrum protection," says Dr. Amy Forman Taub, M.D., medical director and founder of Chicago-area Advanced Dermatology and skinfo.
Know your skin type: If you have oily skin, finding the right moisturizer with SPF can be tricky, but it's possible. "Most modern, well-made sunscreens are noncomedogenic," Dr. Taub says, meaning the ingredients in the bottle are specifically formulated to not cause blocked pores, and thus, acne breakouts. Look for noncomedogenic, oil-free, and fragrance-free on the label.
Don't skimp on hydration: Your moisturizer with SPF should still be hydrating, regardless of your skin type. Look for moisturizing ingredients like hyaluronic acid, aloe vera, ceramides, and glycerin.
Stick with one you like: Finding the perfect match for you may be trial and error, says Dr. Saedi. When it comes to keeping your skin looking young, consistency is key. "Go for a formulation that you like and are willing to wear every day," she says. Just be sure to reapply every two hours for max protection (or touch up with a powder sunscreen if you don't want to disturb your makeup).
Not sure where to start? The following moisturizers with SPF protect your skin while keeping your complexion in check. Each one contains a minimum of SPF 30 (though most provide more), as well as broad spectrum UVA/UVB protection. They're all lightweight enough to be used under makeup and won't cause breakouts or irritate sensitive skin. Here, the best dermatologist-approved moisturizers with SPF for every skin type.
This content is created and maintained by a third party, and imported onto this page to help users provide their email addresses. You may be able to find more information about this and similar content at piano.io